Replacing some or all the windows in your home is an investment. That's why it's important to explore window styles options, energy efficiency potential and design changes before making your final decision.
One overlooked way to change your home without a huge remodel is to add custom shape windows. Window Innovations custom-shaped windows can easily create a focal point in your room while also adding curb appeal to your home.
What is a Custom-Shaped Window?
Known by many names like picture windows or fixed windows, custom-shaped windows typically do not open and are used to maximize views and the amount of light that comes into your home. Custom-shaped windows can be manufactured in a variety of geometric shapes and sizes to match the style and aesthetics of your home. Ideal for areas in your home that are hard to reach and don't need ventilation, such as a staircase, cathedral ceiling or above existing doors and windows. Just imagine the views beyond the blank wall.
The Benefits of Custom-Shaped/Specialty Windows
Custom-shaped vinyl windows are a perfect way to set your home apart by adding character and accenting the style of your home. Custom-shaped windows also allow you to let more natural light into your home and extend your views of the outdoors.
At Window Innovations, we understand that your design style is unique; that's why we offer a variety of sizes and configurations to create your one-of-a-kind space.
Custom Shape/Specialty Window Configuration Options
We know the choices seem endless. But our job is to help you narrow down the options quickly to only the ones that you'd like to consider.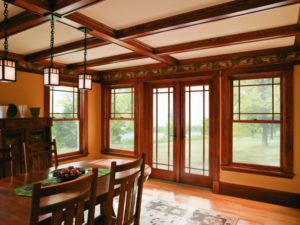 Just some of our customization options include:
Geometric shapes.
Custom designer glass. Privacy, tinted, etched or glass patterns are some of the available options.
Decorative grids. Between-the-glass window grids give you the ability to add a distinctive character to a room with multiple patterns and shapes available.
Custom window sizes.
Energy-efficient glass. Choose between double- or triple-pane glass for ultimate protection from the elements.
Interior and exterior frame options. Choose your color, frame size and frame materials to suit your needs.
Why Choose Window Innovations Custom Shape Windows?
Window Innovations offers endless ways to personalize and match your home with unlimited options. We look to maximize your heating and cooling returns, making your windows not only beautiful, but also energy efficient. All Window Innovations products include a manufacturer warranty.
It's important to us that you purchase the quality windows you need at a price you can afford. That's why we also offer financing options to ensure that you receive the perfect windows within your budget.
If you're ready to start designing your custom shape windows, schedule your free, in-home estimate today or give us a call at 1-402-905-9100.